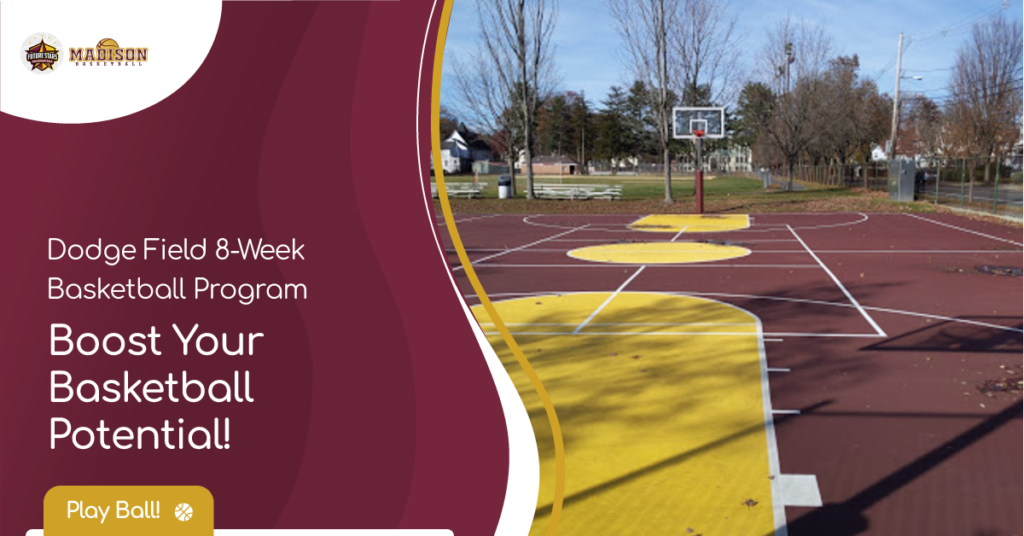 Madison Basketball Dodge Field 8-Week Program
Are you ready for an unforgettable summer of basketball? Introducing our Dodge Field 8-Week Basketball Program, designed to take your skills to the next level while having a blast!
Whether you're a beginner or a moderate player, this program is perfect for boys and girls in grades 1st to 8th. Girls, join us on Tuesday nights, and boys, it's your turn on Thursday nights. Get ready for non-stop excitement and tons of fun!
Who: This program is designed for beginners or moderate players, boys and girls in grades 1 to 8. Girls,
When:  Tuesday nights for girls Thursday nights for boys.  Get ready for non-stop excitement and tons of fun!
Cost:  We have designed this to be flexible for those with busy summers but still want to get some hoops in.  Pre-pay the entire 8-week program – $140 register here – https://go.teamsnap.com/forms/379437
or pay as you go at $20 per session. – register here https://go.teamsnap.com/forms/379440 and select the dates that work or you can bring cash to the sessions you attend.
Each week will consist of 30 minutes of skills/drills followed by 30 minutes of gameplay.
Let's dive into the program and see what we have in store for you each week:
Week 1

Week 1 is all about building a solid foundation. We'll start with fundamental skills to help you improve your dribbling, passing, and shooting. Our experienced coaches will guide you through 30 minutes of engaging drills, teaching you the essentials of basketball. Then, get ready to put those skills to the test in 30 minutes of thrilling gameplay.
Week 2

Week 2, we'll focus on developing your defensive techniques. Learn how to guard opponents effectively, improve your footwork, and master the art of stealing the ball. These skills will make you a formidable force on the court. After honing your defensive prowess, it's time to showcase your skills in an action-packed 30-minute gameplay session.
Week 3

Week 3 is all about teamwork and communication. Discover the importance of passing and setting screens to create scoring opportunities for your team. Develop your court awareness and learn to anticipate your teammates' movements. During gameplay, you'll have the chance to put your newfound skills to the test and experience the thrill of collaborative play.
Week 4

Week 4 is where we take your shooting skills to new heights. Our expert coaches will help you refine your shooting technique, improve your accuracy, and increase your shooting range. Get ready to drain those three-pointers and become a scoring machine! In the gameplay session, unleash your newfound shooting prowess and light up the scoreboard.
Week 5

Week 5 is all about agility and speed. Develop your quickness, improve your first-step explosiveness, and enhance your ability to change direction rapidly. These skills will make you an elusive player that's hard to catch. Then, put your newfound agility to the test during the gameplay session and leave your opponents in awe.
Week 6

Week 6 is dedicated to enhancing your rebounding and ball-handling skills. Learn how to position yourself for rebounds, box out opponents, and secure possession for your team. In addition, we'll focus on advanced ball-handling techniques to help you navigate the court with confidence. Apply your skills during the gameplay session and dominate the boards.
Week 7

Week 7 is where we refine your passing skills to perfection. We'll cover advanced passing techniques, including bounce passes, no-look passes, and alley-oops. Become a playmaker and set up your teammates for success. Then, test your passing abilities during the gameplay session and create unforgettable assists.
Week 8

Week 8, we'll bring everything together for a grand finale. It's time to showcase all the skills you've acquired throughout the program. We'll focus on situational gameplay, decision-making, and strategies to elevate your basketball IQ. Play your heart out, have fun, and celebrate your incredible progress during the final gameplay session.
Tuesday Nights
Girls
1st-3rd*
6:00-7:00pm
Girls
4th-5th
7:00-8:00pm
Girls
6th-8th
8:00-9:00pm
Thursday Nights
Boys
1st-5th*
6:00-7:00pm
Boys
6th-8th
7:00-8:00pm
**1st graders or anyone who can't reach a 10' hoop will play on the side lower basket
Don't miss out on this incredible opportunity to improve your basketball skills, make new friends, and have the best summer ever! Join us at Dodge Field for the 8-Week Basketball Program. Register now and let's make this summer one to remember!